PPP Structure
MORE EVENTS. MORE IMPACT. LESS RISK.
A TRUE PARTNERSHIP
The standard private operator model in the marketplace requires and guaranteed management fee, commissions based on gross revenues not profit, and requires the public partner to cover any and all operational losses on a yearly basis. Put quite simply, we don't think that's fair.
We created Sports Force Parks with the mission of creating sports complexes that drive profitability, maximize economic impact, increases local use opportunities and lower/eliminate public risk. All of our parks are set up with long-term management agreements that incentivize our upside through profitable operations, not through guaranteed management fees and backstop subsidies. By tying our upside to operational profitability we are required as a company to maximize programming and visitation, which in turn maximizes economic impact, development and local opportunity.
Operational Profitability
Let's be clear - it takes a lot of teams and a lot of events to reach profitability. A lot. This means our national and local staff are constantly striving to drive teams and drive events throughout the entire year; thus maximizing impact and development within our communities.

Reducing & Eliminating Risk
We want our communities to continue to grow and excel. This means they need to have the ability to confidently take on other project, which they can not do if they are covering an unknown amount of money every year from the operations of a sports park. We never ask for our communities to cover operational losses. They are our partners, not our bank.
Local Use and Access
We don't just place a manager at your park. Sports Force Parks places a full-time, in-market staff and employs over 100 local residents at each of our parks. We are a piece of the fabric of all of our communities. We believe that our parks are only as successful if they are a part of the community, which means providing increased opportunities for local residents and an overall boost to the area's quality of life.
---
SPORTS FORCE PARKS MODEL
With the most successful and public-friendly operating model in the sports industry, Sports Force Parks is currently looking to expand our park network across the country. With a proven track record of developing many of the most successful and sought after facilities in the industry, we are looking for public partners who are looking to build new destination sports park or renovate/improve existing facilities. The information below gives a brief overview of the different stages of our park development process. For more detailed information about how our model can apply to your community, contact us today!

---
PLANNING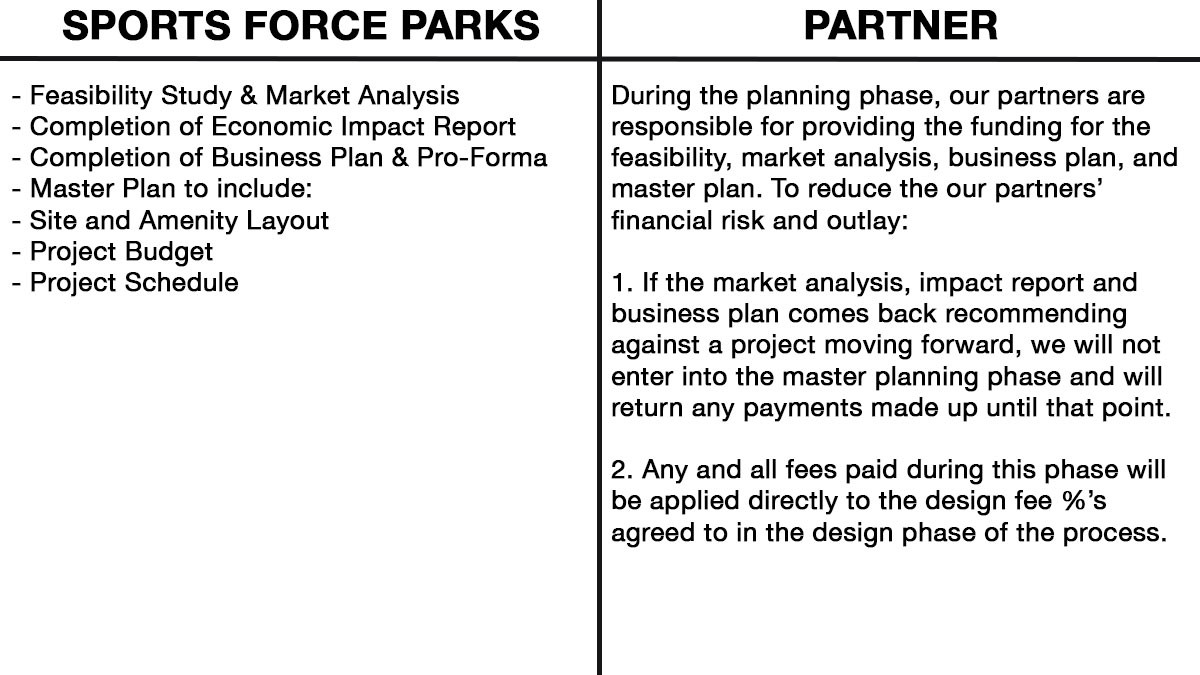 ---
DESIGN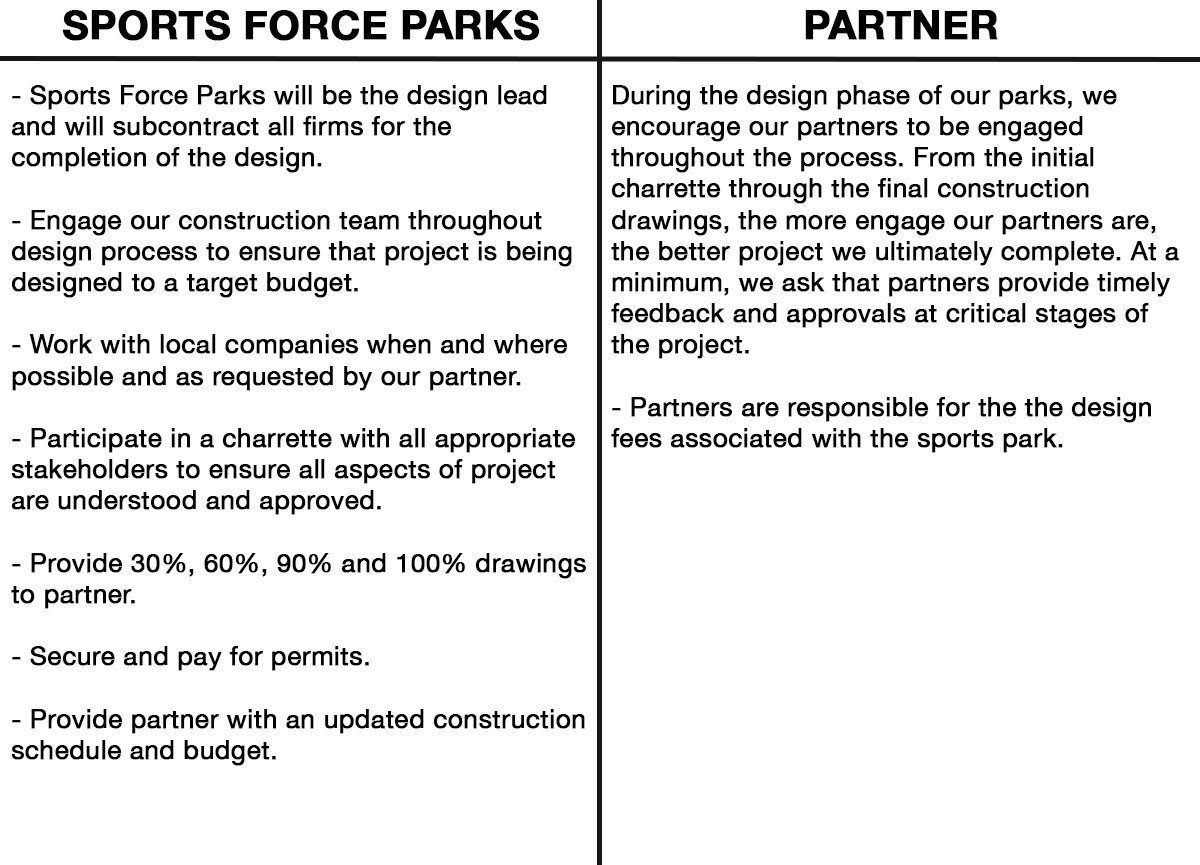 ---
CONSTRUCTION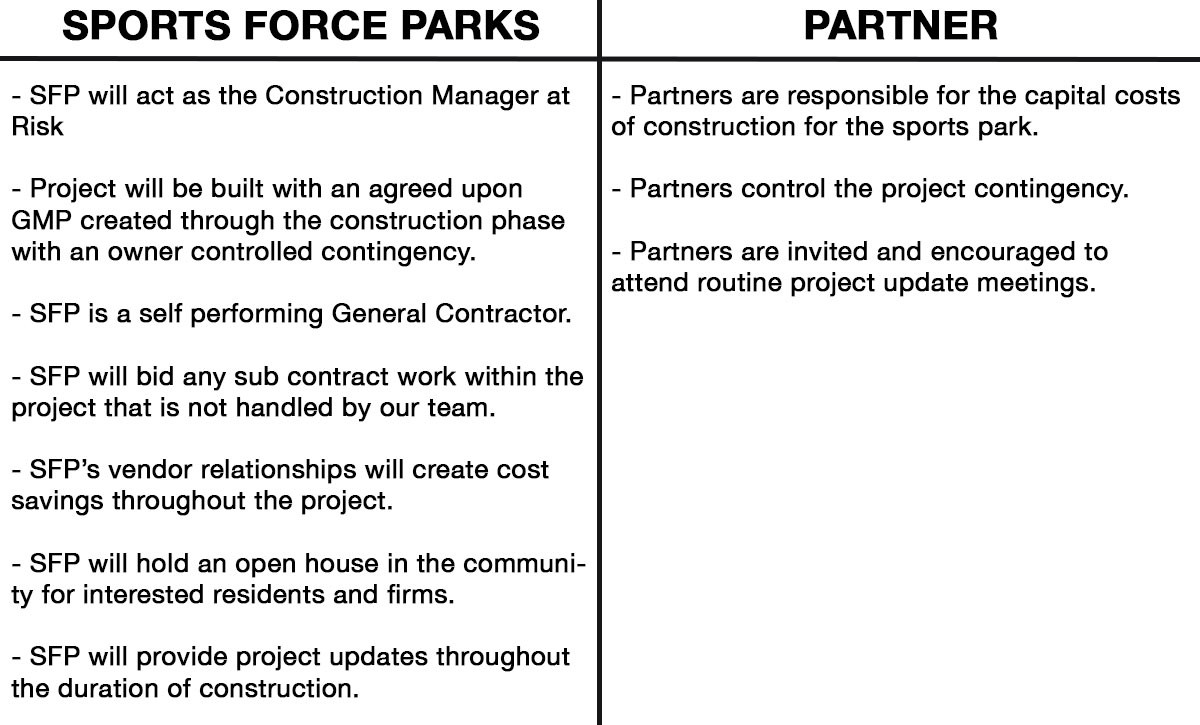 ---
OPERATIONS & MAINTENANCE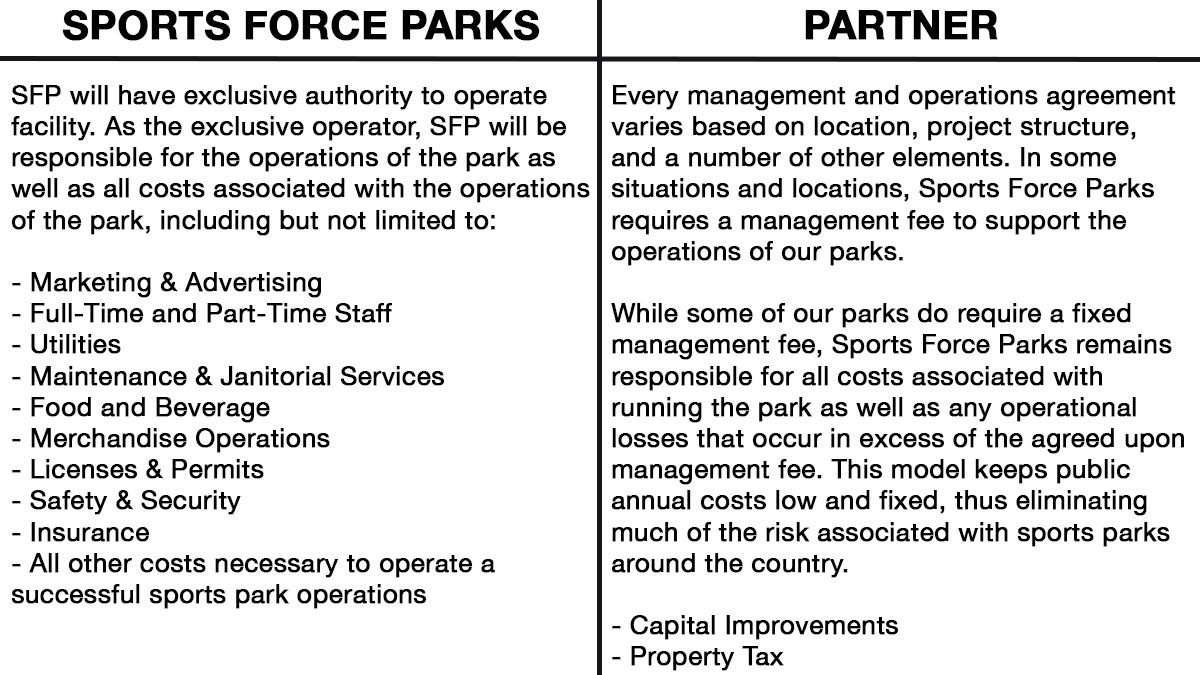 ---

LOCAL USE
SFP is not only a partner at each of our parks, but also a committed member of each or our communities. Our parks employee over 100 people each, a majority of which call the community home. In an industry that has moved in the direction of creating the best opportunities for he most talented players and the wealthiest families; Sports Force Parks has forged our own path. We believe the best sports and family experiences should be made available to everyone regardless of athletic prowess, physical or mental ability, or socioeconomic background. Not only are we delivering on this mission; we are doing so at some of the highest quality sports complexes in the country while also delivering staggering economic impact results and profitable operations. Local use opportunities vary by location and include but are note limited to:
Recreational Usage
SFP works at each of our parks to develop programming relationships with local recreational leagues, organizations and charities to include their programming while also providing scheduling opportunities and open use times for all local residents.
At-Risk & Underserved Youth Programming
SFP partners with a number of organizations around the county to create and offer programming focused on at-risk and underserved youth. This programming is always free for participants and provides safe, fun places for kids to learn life skills such as leadership, work ethic, personal responsibility, and healthy living.
Force All Stars
Force All Stars is a program that is fully funded by SFP at each of our locations. All Sports Force parks locations include sports and recreational facilities that cater to kids and adults who face physical and mental challenges and provide programming free of charge. SFP covers all of the costs of these operations, providing access to anyone and everyone who wants to be part of the program. Opportunities include leagues, camps and special one-day inclusion events.